Hi BPMers
Just a quickie to let you know about a few great ways of keeping track of your fitness routine….certainly the bike part anyway.

The type of app that you can use depends upon the type of bike:

The Schwinn bikes are ANT+ and therefore are for Android phones/tablets. Therefore you can use the Strava app and website and/or Garmin devices.

The Wattbikes are both ANT+ and Bluetooth (for all Android, iPhone/iPad). Use the Wattbike app and website, Strava or Garmin. Wattbike connects to Strava through the Wattbike website

The CycleOps bike is ANT+ and Bluetooth. Use Strava, Garmin or if you have your own Virtual Training login, hook up to on the Virtual Training application which in turn connects to Strava.

Zwift is an additional Virtual Reality training software which works with Wattbikes and Schwinn bikes. As above, you can also hook up to Strava, Garmin and or Wattbike app whilst using Zwift.


Strava app (android or apple…ps here is the Strava website back-end also), make a login (Facebook syncs well) and each time you use the CycleOps Virtual Training bike, I can email you the stats to sync.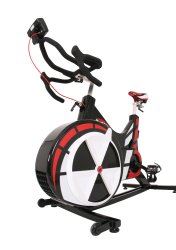 If you prefer the Wattbike, download the Wattbike app which is used in conjunction with either the Wattbike Powerhub (Wattbike's data tracking website) or probably preferably just link it very easily to Strava itself (from an option within the Powerhub website).
We of course very much appreciate people letting others know on social media about what they do here at The Lab.. and as such we'll be running a few promos shortly, but if you wanna shout about it, please do!
Any questions about any of this just shout, ta
Jon.